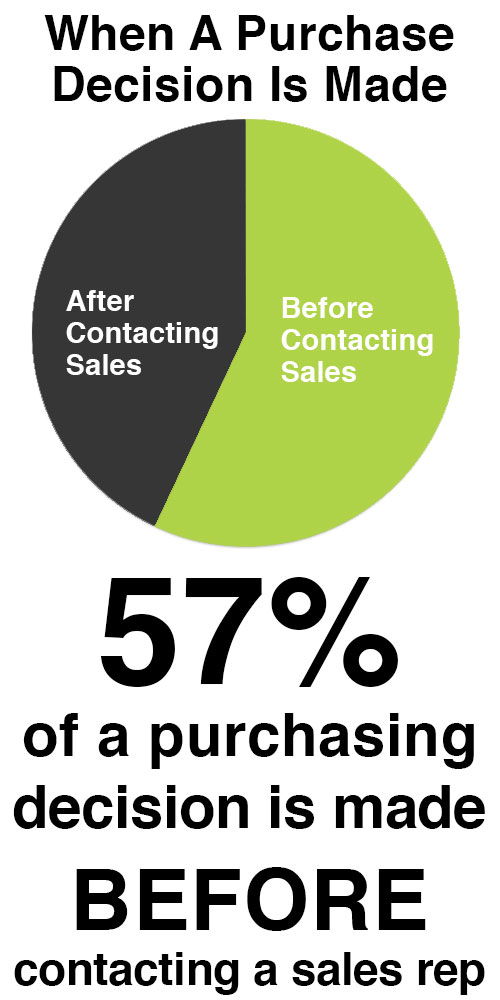 A few years ago, Harvard Business Review published an article with a single statistic that stands out in my mind as the most poignant and relevant data point for the current digital marketing strategy landscape. Although published in 2012, I still see this stat referenced constantly on Twitter, blogs, and at marketing conferences:
"A recent Corporate Executive Board study of more than 1,400 B2B customers found that those customers completed, on average, nearly 60% of a typical purchasing decision—researching solutions, ranking options, setting requirements, benchmarking pricing, and so on—before even having a conversation with a supplier. In this world the celebrated "solution sales rep" can be more of an annoyance than an asset. Customers in an array of industries, from IT to insurance to business process outsourcing, are often way ahead of the salespeople who are "helping" them."
(Sources: Harvard Business Review & CEB)
Let that sink in for a second. Today, buyers have their decision mostly made before they have any conversation with your sales team. The article is appropriately titled, "The End of Solution Sales," and makes the case that, "boosting the performance of average salespeople isn't a matter of improving how they currently sell; it involves altogether changing how they sell." How your sales team should adapt is something I'll explore further in another post. What I'd like to focus on is what this means for your website.
This shift in buyer behavior means that now more than ever, your website is a critical component in the sales process. It is the public face of your company, and is often the first thing a potential customer will see when considering your product or service. Granted, every online touch point is important, social media or otherwise, but your company's site serves as the central hub for potential customers as they go through their purchase decision process.
The good news is, you can make this shift in buyer behavior work to your advantage. Your company's website can be turned into a lead generation machine, attracting traffic, converting unknown traffic to leads, and nurturing leads into customers. To do this, your website should incorporate the following:

Get found online with search engine optimization (SEO). Make sure that your website is playing nice with Google. This includes a combination of on-page optimization and off-page efforts. A well-optimized site will appear higher in search engine results pages (SERPs). The top result in a Google search typically gets 36.4% of clicks.
Make sure your site is designed for usability. Most sites in most industries have a 30-60% bounce rate, meaning that visitors come to a site and immediately leave. Sites that are designed for usability ensure that traffic that visits the page stays on the page, lowering bounce rates.

Get the right content on the site. Having content that is relevant and useful to your site's visitors is an absolute must-have for your website to generate leads.
Make sure you can convert traffic to leads. Once an anonymous visitor comes to your site, make sure that your site enables them to provide their information and become a lead that you can nurture. This is typically done through call-to-action buttons and javascript-based lead capture forms.
For an in depth look at turning your website into a lead generation machine, check out our Ebook, "25 Essential Website Elements to Drive Traffic, Leads, and Sales."