Give Your Sales Team Everything They Need to Close
Sales enablement (SE), is a relatively new term and the definition can be elusive. One company might define SE as improving productivity or performance. For another, it means providing the tools, processes and knowledge for sales to close more deals.
IDC defines sales enablement as, "Getting the right information into the hands of the right sellers at the right time and place, and in the right format, to move a sales opportunity forward."
Where do we see our experience coming into play? Right at the inflection point of customer purchase decision, near the bottom of the sales funnel. Our experience as designers and marketers positions us as the right choice to create sales enablement tools.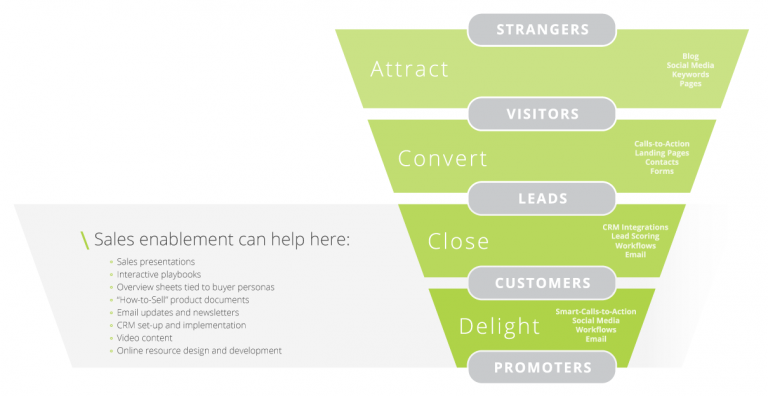 "Today's buyers might be anywhere from two-thirds to 90% of the way through their journey before they reach out to the vendor."
— Harvard Business Review & CEB
We begin with an objective look at your sales processes and analysis of your customer personas. We ask what questions need to be addressed in the minds of your customers to make purchase decisions? Then we identify opportunities to apply best practices to align sales and marketing.
We go beyond content creation by producing tools and materials that sales will actually use. For example, Dimension Data had a wealth of useful information that defined customer IT infrastructure, but no way to integrate the myriad solutions that addressed highly individualized WAN-related services. Using XML, we programmed an editable, interactive playbook that gave sales the flexibility they needed to close deals.
Aligning Sales and Marketing
All too often, sales and marketing teams have adversarial relationships within an organization. Beyond simply creating collateral, at the core of our sales enablement initiatives is getting sales and marketing in sync. Oftentimes this starts with a simple step that many marketers surprisingly overlook: go and talk to your sales people! Ask them what they need or what they'd like to have. What will help them close deals? Are they aware of all the resources marketing provides them? How can marketing and sales work as a team to bring in new business? Without asking these questions, you run the risk of creating a resource that sales neither wants nor needs.
Create Tools for Sales Success
We can create a digital content library that includes:
Sales presentations
Interactive playbooks
Overview sheets tied to buyer personas
"How-to-Sell" product documents
Email updates and newsletters
CRM set-up and implementation
Video content
Online resource design and development
If you need a fresh look at sales enablement, we have the expertise to develop strategies and materials to help sales close more deals.