Category Results:
SEO, search engine optimization, is a phrase that a lot of people tend to throw around while being unsure what it means. But what does optimizing pages for search engines actually entail so that your web page will be among the first results from a Google search?
There are intricate SEO strategies that rely on data science and banks of keywords, but it's actually not as difficult as it sounds from the outset. Here are the top five best practices you need to stick to if you're just starting to double down on your SEO efforts.
Best Practice #1: Create Quality Content
What is quality content? Obviously, content that has high production values if you're talking videos, or is well-written if blog posts and webpages are in question. But a huge mistake that many site owners make is getting hung up on content attributes opposed to the real definition of "quality": a beautiful combination of what works well with search engines and what your audience wants.
You can have the best writer in the world who has extensive experience with your product, industry, or service. But if their content is missing the mark as to what your audience really wants (such as the 600-word "sweet spot" but they really want long-form content, for instance) and is also just lacking the search terms people are actually using, it's just not going to fly. Planting is also no longer in vogue: gone are the days you could just paste the same keyword into a blog post 20 times and have it rise in ranking. Your ranking is now affected by how often that page is shared and visited because it's so helpful, relevant, or entertaining.
You need to invest in understanding your audience and gathering the right data to know what kind of content to create and the ideal attributes it should have. Making this investment is integral to having a winning SEO strategy.
Best Practice #2: Stay Search Engine Crawlable
Crawling is how Googlebot finds new (and updated) pages to add to the Google index. Other search engines use similar bots, also called spiders, to do the same exact thing. These are spiders you definitely don't want to trap with a cup and put outside! You want them to find your pages and index them.
The spider starts by visiting your main website then following every single hyperlink on that page, and each subsequent webpage. When the spider visits one of your webpages, it will load that page's content into a database so that it gets added to the search engine's index. Search engine indices are these mammoth collections of words and where they appear on different webpages. You want your web pages to be in those indices simply because of what people search for.
But if you don't take proper care of your website, it's going to be a lot harder for those bots to pick up your site content. There's the holistic approach to SEO which entails creating quality content peppered with the right keywords, then there's also the more mechanical parts of SEO which is having a well-designed site map full of functional hyperlinks. You don't want broken links or links to dead pages anywhere. You also don't want orphaned pages, which are pages that haven't been pointed to from anywhere on your main site and are not listed in the sitemap (and subsequently, not in search engine indexes.) This results in lower rankings and less traffic.
Best Practice #3: Employ Responsive Design
Because so much more searching and web surfing is done from mobile devices today, both websites and search engines are beginning to adopt a mobile-first culture. You don't necessarily have to architect your site to be fully tailored to mobile — but there is at least one aspect of a mobile-first strategy that you should not omit: responsive design. Responsive design is an approach to web design aimed at allowing desktop webpages to be viewed in response to the size of the screen or web browser one is viewing with.
Responsive design isn't just a great visual strategy, it's also a very good move for SEO. Google search is transitioning to a mobile-first index, and it in turn has developed a preference for responsive sites. As a result, mobile friendly websites have enjoyed a boost in rankings since May 2016, and that emphasis will continue.
It is also important to ensure that lead generation forms can be easily seen and completed on smaller screen sizes. Responsive design can take care of that.
Best Practice #4: Claim and Optimize Your Google Listings
Google Listings are free listings for Google My Business that give your site more visibility plus local elements like being added to Google Maps and "near me" searches (which are definitely on the rise).
These listings are important for SEO purposes because not only do bots crawl them, but so do people looking up information for your business to see if you're legit. If you have an unclaimed or inaccurate Google Listing, this can be costly. Not only can it be falsely claimed, but you can lose out on valuable traffic and customers searching expressly for your company's name. You definitely want to ensure that the contact information in those listings is up to date and accurate.
Best Practice #5: Create Unique Meta Titles and Meta Descriptions
Meta tags, titles, and descriptions are an often-overlooked part of SEO that shouldn't be ignored. Anything described as "meta" means that it's the first piece of text someone sees on a search engine results page. Not only is it searchable, but also often the first impression people have. Don't forget them!
By creating quality content that makes an effort to understand your audience, and keeping your site and listings up to date, you'll be mastering SEO in no time.
SEO Ranking Factors for 2017
Download the SEO Periodic Table for a more comprehensive experience of search engine ranking criteria, provided courtesy of Search Engine Land.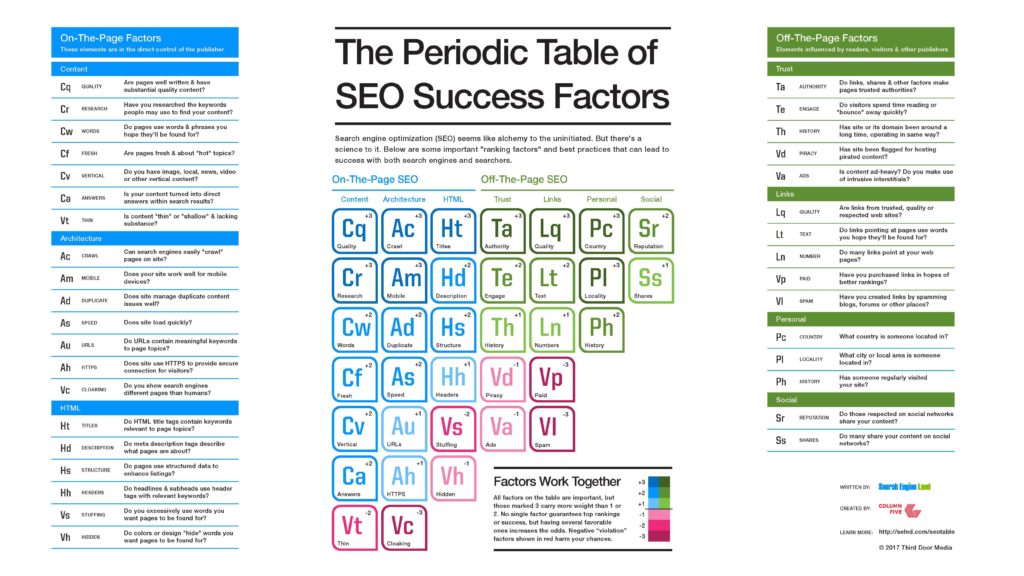 Let's Hear From You
What are your SEO challenges? Let's talk.
"Mobilegeddon" is coming April 21. Get your site's mobile SEO ready now.
Every few years, Google releases a major algorithm update that has a dramatic effect on how your site appears in a search engine results page (SERPs). Recently, Google announced a new algorithm update focused on mobile search:
Starting April 21, we will be expanding our use of mobile-friendliness as a ranking signal. This change will affect mobile searches in all languages worldwide and will have a significant impact in our search results. Consequently, users will find it easier to get relevant, high quality search results that are optimized for their devices.
What does this all mean? If your site is not optimized for mobile devices, you will lose out in search results to your competitors that are mobile-friendly. One nuance of the update is that it is on a page-by-page basis. For example, if your home page is mobile-friendly but other pages are not, you will be penalized in SERPs. You can verify your mobile status with Google's Mobile-Friendly Test Tool, and get more granular data on any issues your site is having with Google Webmaster Tool's Mobile Usability Report.
The folks over at Search Engine Land, Search Engine Watch, and Moz have all done great write-ups on the pending update, full of great tactical advice on how you can prepare for the change. Marketing TechBlog has also put together a nice guide on mobile SEO in infographic format. If you are concerned about your site's mobile SEO and how you can be prepared for the Google algorithm update April 2015, feel free to get in touch with us.