Local Business Listings Are Crucial For SEO
It actually does matter to have the exact same name, address, and phone number listed on digital directories and maps. Even though it seems like a minor issue, inconsistent citations can confuse search engines and hurt your SEO. In addition, 73% of consumers lose trust in a local business when they find incorrect information about that business online.
In contrast, when business listings are complete with hours, reviews, ratings, photos, and relevant information like menus or product lists, consumers are 197% more likely to view that business as a place they can depend on. – Source: (Yext) Google/Ipsos Media, 2014
Here are some eye-opening statistics:
Incorrect or incomplete information online causes small businesses to lose potential customers at a cost of 10 billion dollars per year.
Source: Screenwerk, study commissioned by Yext 2013
On average, 2 in 3 business listings contain incorrect information.
– Yext
If your business has moved or changed names, you are likely in this category for incorrect listings, even if it has been years since your move!
SEO for Local Business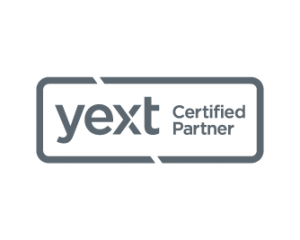 As a Yext Certified Partner, we can help get your business listed consistently in more than 60 online directories, correct listings with bad data, and manage how your business shows up online. Yext is a technology platform that allows us to manage your online listings across many online touch points, solving problems for local marketing and local search.
Utilizing tools like Yext, in addition to our regular suite of SEO services, will help us get your listings in order and elevate your site in search engine result pages.
Get Your Free Business Listing Scan