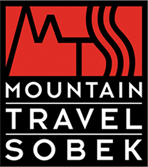 Client:
Mountain Travel Sobek
Project:
Mountain Travel Sobek
COMMEMORATING THE 60TH ANNIVERSARY OF THE FIRST EVEREST SUMMIT
The chance to climb to Everest base camp with legendary Sherpa, Jamling Tenzing Norgay doesn't happen every day. Mountain Travel Sobek wanted to capture the trek commemorating the 60th Anniversary of the conquest of Everest by Jamling's father, Tenzing Norgay and Edmund Hillary. Creative Director Richard Camp jumped at the opportunity and produced a beautiful mini-documentary, photographs and commemorative book for the MTS inbound marketing program.
Richard recalls, "It was a fascinating experience to get a first hand look at Sherpa culture and the hospitality of the Nepalese people". Since the trip, Richard has been in discussions to partner with filmmakers Robin Mortarotti and Roy Cox in support of their documentary, "A Daughter's Voice", the story of child slavery in western Nepal.