Since its debut in 1997, Google has changed the entire SEO landscape. Part 2 of our History of SEO series considers how the art of SEO has been impacted by Google. Read the History of SEO Part 1 here.
Google Acknowledges Links as a Ranking Factor
Google was the first search engine to treat links as part of its search formula, giving websites with inbound links more prominent placement in search results. At the time, this was a revolutionary practice that had a dramatic effect on the user experience of search.
By giving pages with more inbound links higher placement in search results, Google delivered better results for search queries than its competition.
PC Magazine named Google the search engine of choice in its Top 100 Websites of 1998 article and claimed Google had "an uncanny knack for returning extremely relevant" search results.
In response to Google's incorporation of inbound links into the ranking algorithm, the link advertisements industry arose. With the introduction of the Google PageRank toolbar in 2000, webmasters could track their site's PageRank over time, and even figure out which inbound links delivered the biggest boost to their page rank.
Black Hat SEO
In an effort to get found and earn a high page ranking, many webmasters resorted to disreputable tactics to game search algorithms, now known as "black hat SEO." Such tactics disregarded the human subject searching for a term, and focused only on techniques that would get search engine attention.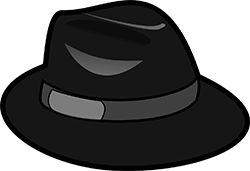 Repeating the same keywords in content (keyword stuffing) or in tags such as meta or image, using invisible text to add keywords, or even changing page text after the page had been ranked by Google are all examples of what we now call "black hat SEO." Other bad SEO tactics include showing one set of web content to users and another to search engines ("cloaking") or blasting online directories in an effort to get more links.
Top brands such as BMW (2006) and JC Penney (2011) received penalties from Google for using black hat SEO techniques. Unfortunately, some folks still practice these tactics – either on purpose or because they really don't know better, no matter how much search pros try to educate them.
Google Panda and Penguin Updates
While many website owners adopted black hat techniques in an effort to impress search engines, Google warned from the very beginning that black hat techniques were a bad idea and that creating quality content was the best way to get a high search ranking.



Beginning in 2003, Google began to penalize sites utilizing these schemes. By routinely updating its search algorithm, most notably through the Panda and Penguin Updates, Google has found ways to continually refine its metrics and deliver quality search results for users. SEO industry expert Moz provides a glimpse into the ongoing history of Google algorithm updates.
The Google Panda Update of 2011 focused on penalizing sites that scraped web content from legitimate sources and used the duplicate content to out-rank legitimate sites. Before Panda, a webmaster could steal from another website, put up duplicate content on his or her site, and ultimately get more web traffic (and ad revenue) from their illegitimate site. Panda also punished low value content that was generic, added little to the understanding of a topic, and was written only as a platform for ad revenue. By rewarding unique, authoritative and quality content, and punishing sites that had low value and duplicate content, Panda made for a better user experience.
The Penguin update of 2012 was a highly powerful attack on spam. Google Penguin specifically targeted black hat SEO tactics like those mentioned above.
As these updates make clear, the days of using spammy tactics to create low quality web content and earn real income are over. Sooner or later, those relying on black hat SEO to get by will be found and punished. With significant time and effort, websites can recover from a Google penalty but they may not rise as high in search rankings as they once did. In the long run, Google will always reward sites that create high quality content.
Part three of our History of SEO series will focus on where SEO is heading after the Google Panda update and the Google Penguin update. Tune in for the discussion of where we're headed, and the implications for tomorrow's SEO.